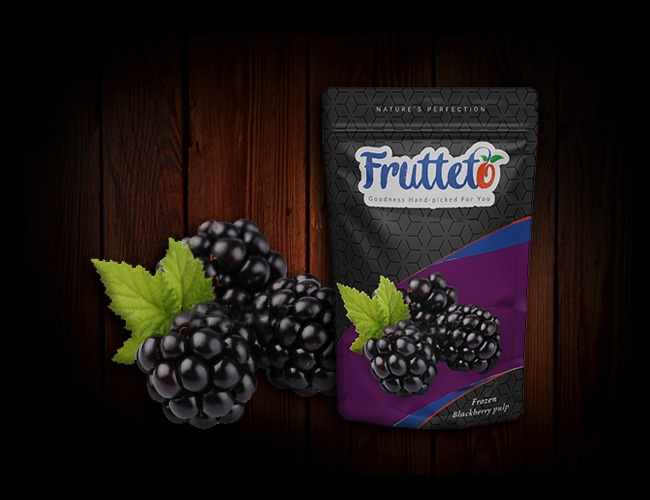 Frozen Blackberry

Ready to use retail packs ( 300 / 400 gms ) and Food Service / Catering packs of 1 / 3 / 5 / 10 kg
Description
The product is derived from fresh and sound blackberries free from all toxic residues and taints. Blackberries contain a wide array of important nutrients including potassium, magnesium, and calcium, as well as vitamins A, C, E and most of our B vitamins. Bulk packed frozen fruits are key raw materials for the production of various food and beverages in an extensive range of industrial applications.
Standards
General Standards : Product is free from added sugar, dyestuff, synthetic flavor, stabilizers, pesticides & herbicidal residues and radioactive contamination.

Preservatives : Free from chemical preservatives
Processing
Blackberries are harvested and delivered fresh to the factory, each load is quality assurance sampled and assessed for foreign material and physical defects. The de-stalked whole blackberry is washed, inspected and frozen to -18°C or below. The process ensures that the natural flavor & aroma of the fruit is retained in final product.
Packing
During packing, the whole blackbarries are inspected before weighing and filling into poly-lined packagings. These packages are Best Before and Production date coded, check weighed, metal detected, palletized and stretch-wrapped before being despatched to the clients, at -18°C.